Mango Mania Slots Review - 3 Reel - 1 Payline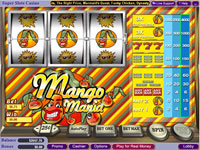 Mango Mania is the tropical delicious fruit that could see you spinning your way to victory and winning the jackpot 0f 40,000 coins. Mango Mania is a 3 reel, 1 pay line slot video game that is incredibly simple to master and play. Mango Mania is truly a game of chance, with graphics that are clearly visible and a theme tune to set the heart racing. Mango Mania will probably more enjoyed by beginners and intermediate players, however, the more experienced slot game players are also likely to take pleasure from this slot machine simply because it is a game which is based on pure chance. Mango Mania Slots can't be found at online casinos today , but there are lots of VIP Fruit slots waiting for you instead!
Mango Mania Slots - Game Play
Mango Mania is a classic slot game with 3 reels and 1 pay line in which to bet on. This means that you can bet anything from one to three coins, however, in order to maximise the chances of winning you should aim to bet the maximum of three coins. The coin denominations which can be played in Mango Mania vary from 50 cent to $10 and the higher the coin denomination the higher the winning total. It is vital before playing any slot game that you are aware of the pay structure, because with 3 reel slot games such as Mango Mania there are certain symbols that will reward you with large payouts and those which are just decorative symbols.
Mango Mania Slots Symbols
The most lucrative symbol in Mango Mania is the mango symbol as this is the jackpot symbol, when three of these are matched and the total bet was three coins then you will be rewarded with the maximum jackpot of 40,000 coins. Other symbols include a 3 bar, two bars, one bar and a number seven, all of these symbols will add to the winnings total depending on the number of them that have been matched and the amount of the bet. The sun symbol is the only symbol in the game that does not offer any payout, no matter how many are matched or how much has been bet.